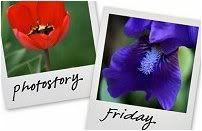 Hosted by Cecily and MamaGeek
It being a frugal kind of Friday we have already swopped Recaro's Daily Torygraph voucher for a Guardian newspaper. There aren't many newsagents that'll do this - so we treasure the one that will accept the vouchers
and
swop them for the paper I prefer to read.
I've also had our incredibly busy, multi-tasking, knitting, babysitting neighbour cut Peaches' hair. She does this as a freebie partly because we pay for her to knit funky little girl dresses and to babysit, but mostly because she thinks Peaches' is a funny and sweet little girl. I didn't exactly have to beg for her to do the deed.
The cut was all about a sassy little French fringe at the front and lots of baby curls at the back. This would get her ready for our holiday in a couple of weeks' time.
My new camera doesn't make it any easier to take a photo of the girl when she's on the move. Nearly all the shots were out of focus - I imagine it's hard for any camera to deal with refocusing when the subject is rushing straight towards the lens.
Downloading just out of focus photos isn't only disappointing, it's a little unsettling. I still feel a bit blurry.