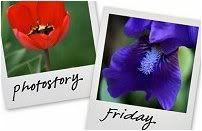 Hosted by Cecily and MamaGeek
We've not been shopping for a while. So hold on to your hats, grab your wallet and lets go. There's even a sale along the way. By the way, this post is dedicated to my ever-so stylish sister-in-law in Melbourne.
Stella McCartney
I like to imagine that Stella is bonkers, but I can't deny that she sells lovely clothes. And she always gives good window display. Daytime through to evening and with such pretty shoes. (I think lots of shoes are pretty, even if I wouldn't/couldn't wear them myself.
I think he and Stella have a competitive window thing going. Creatively at least this week, he's winning. I'm a bit concerned however that the king of summer dresses is only good for skinny young girls.

Kenzo
I don't like fascinators, but it's a pretty dress. She should really clean up those fridge magnets though. They are taking over the house.
Dolce and Gabbana
It's an interesting trick. The window looks busy and exciting. But pause a moment and look at the clothes. Pretty ordinary. Not so special this week.
Has an uncanny knack for cute items. There's something strangely desirable about the fluffy pink jacket even if I know in my heart that it would not look quite so lush on me.

So jolly, so Wimbledon. I love their window displays - they really make the most of their wind machine to get the skirts fluttering. On a very positive note, this is the most affordable shop of them all.

There you go - that's your lot. Now you know what all the yummy mummies in Mayfair will be wearing this season; peachy little summer dresses with pink fluffy jackets fluttering in the wind.