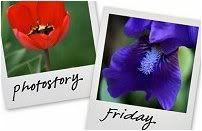 Hosted by Cecily and MamaGeek
It's beyond me to resist questioning the intelligence of some people. I try to give them the benefit of the doubt, but every now and then I just find myself rushing to the moral high ground full of certainty that other people are mad.
It was for this very reason that I stopped reading our local paper. I was having to fight the urge to write weekly letters to the editor complaining of its sexism and shoddy journalism. I've had two letters in the local paper, which probably means I'm certifiable too. (At least it illustrates that blogging is one part of a bigger pattern which sees me splurging my thoughts and convictions to the world...)
Last Sunday, however, it
just so
happened
that there was an armed siege less than 500 yards from the house. Roads were closed, armed police were swaggering about and there was no details of WHY to be had anywhere on the internet. So we stayed home, hoped it was nothing too horrible and bought the local newspaper four days later to find out more.
I'm showing you the pages, because it's always been my experience that newspapers are infinitely more interesting if read over someone else's shoulder.
If you click on the images to read the story, it would be a bit of a squint. Basically, a tenant living close to the harbour threatened his landlord with a samurai sword and said he was going to set the property alight. The landlord called the cops who then launched a four-hour armed siege to get the guy out of his flat.
Here's the mad part,
"Jenny Cross of Tankerton Road was walking to the High Street with her three-year-old son when she came across the drama.
"She said: 'I've been standing here waiting for something to happen for the last hour.'
"'It's pretty exciting. It's not every day something like this happens in Whitstable.'
"'It's the first time I've ever seen policemen with guns. I just hope noone gets hurt.'"
Is it just me, or isn't it really daft to stand around with your three-year-old son waiting for a gun siege to kick off?
While you mull that one over, I'll be getting on with packing for our summer, windsurfing holiday. Here's a hint of what we'll be wearing next week.
And yes, this is a three duck trip. I'm taking no chances.