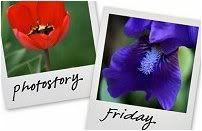 Hosted by Cecily and MamaGeek
Recaro and I took Peaches to Tea & Times for breakfast and a milkshake. He headed off for work and I went for a walk around the harbour and along the beach. I'm not sure if many of you will be familiar with just how slowly a child can walk...
I was surprised. After all, every time I want to stand still in one place to look at something or talk to someone, Peaches seems to develop the ability to move really fast. I did try pretending to leave her, saying goodbye and walking off. That tactic didn't phase her though. She just waved 'Bye, bye' to me and played with the pebbles. Gah - she's so secure that I love her and won't really desert her. (That's a good thing, isn't it?)

At least her incredible slowness gave me a chance to take some photos. I thought this one wasn't going to work, but then I jazzed it up in iPhoto and the colours came alive.
*********************
As previous readers will know, I am THE strangely lush tourist board for Whitstable. So imagine if you will, that you arrived in town this morning. You might be squeezing your family into one or two of these fisherman huts overlooking the sea.
After testing the beds and making sure the shower's working, take a short stroll past the yacht club and the RNLI station to harbour. It's got a market on today.
It's one of the few places where I've seen some bright all in ones and pyjamas that would be good for little boys. Not many children's clothes designers have realised the potential of interesting boys clothes. Maybe that's all about to change, because I thought these looked like fun.
See... applique doesn't have to mean tractors.
This market was supposed to be a farmers' market. There are a couple of fruit and veg stalls, but there were loads selling just cherries and strawberries.
Only one very gorgeous stall was selling strawberries in chocolate. 
If you had just arrived in town, you'd be ready for a coffee by now. This one comes with a handy coffee lounge if you like to sit down and drink. I always remember a friend's mum saying, 'it's common to eat in the street'. Have to say it's a thought that has always stuck with me - it speaks to my inner uptight suburban mumness.
Clearly, I'd make an exception for ice cream. I think this could be something for the afternoon.
At this point, I went home, very very very slowly taking photos along the way. 
If you were here for the weekend though, there'd still be lots more to explore. Later this evening there will be live music at a the beach side Brewery Bar where they are holding its annual Beer Festival.
What are you waiting for? Has anyone got Whitstable on their 'to visit' list?