Do you remember the heady excitement of messing about on an empty stage? I do. The opportunity to know what everything looked like from 'up there' was too good to miss.
I had no idea that Peaches would find it so interesting as well - I thought she'd be too young to clock the significance of a stage. It could have had something to do with running into her daycare playmate who's a year older.
I DID happen to be having a beer while I took these photos, but it wasn't as if a whole line up of acts were waiting to get on stage. Hanging out in an empty marquee was the easiest option for keeping Peaches out of the sun/out of the sea/in my sight.
Every now and then she'd stop running to hold her top out and smile beautifically (is there any other way). That brought her a few cheers from guys passing through the tent on their way to drink beer on the beach.
We also had ice cream because she's surprisingly good at eating it (funny that). I don't let her run around with it. Is it the credit crunch or would I always be too stingy to see a good ice cream dropped on the floor? (You decide.)
My mum always tells the story of how I had a tantrum and scrunched up an ice cream when she attempted to turn it around for me. This took place in a full butcher's shop and she insists it was excruciatingly embarrassing. I've learnt from her mistake and don't ever come between a toddler and her cone. No matter how sticky and drippy things get, I leave her to it.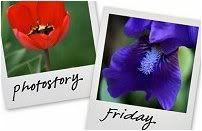 Hosted by Cecily and MamaGeek