Ball pits are not nice. I can't help but imagine there's a lot of wee swishing about in the bottom of these.
However, my pal the Yoga Guru talked me into taking her son and my daughter to play. Since Peaches' socks remained dry throughout the visit, I've been assured that the hygiene didn't hit the all time low that I feared.
I wasn't ready for the crashing and leaping about that ensued. Fortunately I realised that it would not be cool for me to go in and join in (that is, stop) the mayhem. It was exciting to see how confident they both were at exploring and playing in this massive cage of squashy shapes, balls and slides.
The only advantage I 'enjoyed' was that at least it wasn't Peaches who was throwing herself headfirst down the slide. I don't know how mothers of boys handle the stress.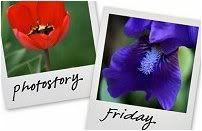 Hosted by Cecily and MamaGeek