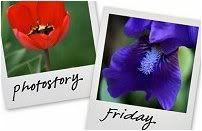 Hosted by Cecily and MamaGeek
Remember how much fun it was to mess about with paint.
At some point, I will get the paints out of the garage and have an artistic moment with Peaches. Until then, I am delighted that she can get her painterly kicks at the childminder's (I should give this woman a name...).
What starts like this...
Ends like this...
You have no idea how this happy picture fills my heart.