Good health is returning to the house. It's very difficult to sustain normal levels of fun and happiness when Recaro is nursing a bad stomach. Today he's well enough to clear his old Star Wars videos out of the attic. Nothing, it seems, cheers a man up more than messing around with ladders and loft space. (Unless he has a shed. Sheds beat attics any day.) Thank you for your get well messages - I was starting to feel a bit doleful at being trapped in the house by self imposed potty training and bad luck sickness.
It's a pleasure to get round to regaling you with the delights of my birthday feast - especially since we had to cancel Recaro's dinner - I'm a meal down, disaster!
I found the photography to be a major challenge. None of them are especially in focus and many are too dark. The words will have to do a lot of the work in describing this gorgeous meal.
We started off with pork scratchings - deep fried pork belly, still meltingly warm. I can't abide pork scratching in pubs, but these were in a different class. Canapes of rye bread and pickled herring were served alongside these. By the way, all butter, bread, salt, pickled herring and cured ham are prepared in house. The chef, Steve Harris, is a mostly self-taught chef and works hard on perfecting a number of old-school ideas before putting them on the menu.
Next up was lobster soup. I can't eat lobster - so my soup was swopped for a deliciously summery courgette soup. I'm assured by HP Sauce (our neighbours) that the lobster soup was fabulous - for them, this was a highlight of the meal.
Next up was Salmagundy. Here's a bit of food history for you. Salmagundy is an old word to describe 'a salad of anything and everything'. Nowadays, this salad includes poached egg, meat (in this case bacon) and beans (french and mange tout). We also got an incredibly tasty tomato and flower - which tasted quite sweet. Incidentally, the name
Solomon Grundy
is derived from Salmagundy.
16 month salt cured Seasalter ham had a very full on taste - quite salty and as you chew it, more flavour emerges. Steve even goes so far as to produce his own sea salt - the beach is only 50 yards away. He started experimenting with home cured ham in 2004 so that he could use up all parts of the pigs that a local farm rears for the restaurant.
Are you keeping up? Good. Because next we were offered an additional course of brill tartare. A limey, sweet pickle flavoured serving of brill - in a foamy sauce, served in a shot glass. I thought this was the tastiest, liveliest part of the meal. I'd defy anyone who doesn't like fish to not like this. (Unless you don't like lime and pickle. I can see that would be a problem.)
The main fish course was braised brill with a smoke herring sauce. It's hard to imagine how tasty a grey sauce can be. It strikes me as quite a bold move for a chef to serve up a grey sauce - colour matters so much with food, but in this case, I think it's an ironic twist that this tasty sauce looks dull. The brill was cooked just right and it was not a surpise that the courgettes (home grown) were lush.
I like to think the good people of the Sportsman like us because we were offered another extra dish of lamb belly with mint sauce. Yummity.
The photo of roast rack of lamb from Monkshill Farm was a disappointment. I really wanted to show you how perfectly tender and evenly pink this lamb was. If all places could cook their meat with such care we'd all be as round and fat as buttered pigs.
Finally we were on to desserts. If ever you eat at this place, you won't want to miss out on the triumph that is the Sportsman dessert menu. Rhubarb sorbet and burnt cream (creme brulee) is possibly one of the best desserts. The sorbet is a little sharp - and also has some exciting tongue-crackling space dust. This has been known to make old ladies think they are suffering a heart attack... weird - tongue-crackling isn't a heart attack symptom I've ever heard of.
I rarely order creme brulee in other restaurants. It's a simple dish that most places screw up - I love eating it here because I can completely trust that it's going to be right.
An extra (yes another - I was in dessert heaven) dessert of elderflower ice lolly served with cake milk (milk flavoured with ... cake) later, and we moved on to jasmine tea junket and strawberries. The junket was served in little sealed pots along with chocolate mousse with salted caramel and a little custard tart topped with a raspberry.
What a triumph.
I think you can see how happy that meal, and the lovely wine, made me. There was also bottle of white Albarino wine that didn't last long enough to be photographed.
If you plan to visit - let me know and I'll pass along my secret tips for getting the best table in the house.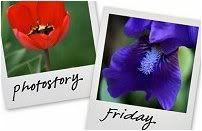 Hosted by Cecily and MamaGeek