There are so many things wrong with this photo. It's not straight, it's blurry, it's over-exposed, it's poorly composed, it was supposed to be a self portrait (at least some of my hair gets into the edge of the shot) and I only just held on to the camera.
And yet you know it's a happy moment, don't you?
Doesn't that make it a great photo?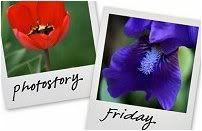 Hosted by Cecily and MamaGeek