I didn't take this photo. This was taken by Peache's glorious childminder. They were playing with green jelly. I hope you can imagine hearing her say 'ooooh, fingers'.
After a week of knowing Peaches' has been having a lot of fun at playgroups and with her 'minded-family', today is my day for being a SAHM. So obviously it's raining.
We've just walked home from a coffee shop breakfast with Recaro. He's gone off to work now and Peaches and I are home after having walked along the beach in a fine, hazy mist of rain. It would have been a miserable walk... but I think it's wrong to complain about any walk on a beach, don't you?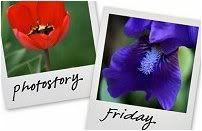 Hosted by Cecily and MamaGeek