A couple of weeks ago Peaches turned two and I knitted (yes, ME, knitted) her a hat and scarf. Needless to say she's refusing to wear it. She's not even going to entertain that idea for a second.
Fortunately, teddy is more obliging and I think he looks very lovely. This was supposed to a be a round, simple baby hat with a stalk at the top. The occasional accidental row of knitting turned it into something more Taliban like... but at least I still managed the stalk.
I'm not very crafty, but at least this attempt does look like a hat (despite a few dropped stitches and a very random take on the instructions).
We started the day with opening cards in kitchen while Recaro made breakfast.
We love a party and invited our good friends and their own small children. There's plenty of time ahead for Peaches to dictate the invitation list. Until, we are loving having friends and their kids over to see us. It's great to be able to chat and not feel awkward about the mayhem going on under our feet.
This was the first time I'd seen Peaches stacking bricks. I was very impressed, but I've got a feeling she might have been doing this for sometime at her childminder's. And what about that dress - isn't that a perfect party dress? Recaro found it at Kent & Carey. He loves shopping for her.
And the wings - a present from Grandma. She didn't take them off all day, until she was given a second pair and had to try them out too.
Recaro also made the cake - it was a bit crispy at the edges because he ignored my advice about the our oven being hotter than average... but no-one minded, it was extremely good. It was a very traditional victoria sponge. We'd had a bit of a bake off and I made an adult pear and almond tart. I'm making that again this weekend it was so good.
We'd also invited an old school friend of mine and our cleaning lady to the party. They were proper guests - but still did all the washing up and cleaned the kitchen at the end. Which is why Recaro and I still look very relaxed at the end of the party.
That might also have had something to do with this.
At least we recycle. How environmentally-friendly.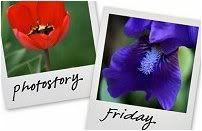 Hosted by Cecily and MamaGeek