One of the reasons I've not been blogging regularly is that I've been going out to have fun. I took a day off work recently to go and play golf with Recaro and some friends.
Peaches didn't get to take the day off. She had to go and work hard on the play dough, the glitter and the dancing about with ribbons in her hands. It was tough day for her, but she pulled through just fine.
Meanwhile, I played a round in 118. Bearing in mind my target was to play under 120, I was very happy, even if everyone else did beat me.
The sun shone and the links course at Littlestone was fantastic.
I did feel mean for having fun with Peaches. But on the other hand, I did feel a great sense of release afterwards. It was so good to have concentrate and focus on something else without wondering whether Peaches was going to pour water on the floor, run into the road or fall down some stairs.
Recaro had originally wanted to do this on a Friday - a day when we DON'T have childcare lined up. He felt a bit pushed around when I said that wasn't a great idea. We'd have to make alternative plans and I'd only worry that it wasn't working out as well as with the childminder.
So I learnt two lessons from this experience:
Taking time off now and then to do something grown up and fun is good for my head
Mother knows best about childcare plans or in other words, I'm always right and that's the truth.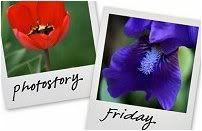 Hosted by Cecily and

MamaGeek