I've been knitting. So far I've made two presents. As an experiment in following a pattern, I also attempted to make a third present of baby booties. Peaches discovered the pre-felted booties and decided they made excellent slippers. I'm going to have to put a sole on these so that she doesn't fall over.
I've since put them in the machine and they've fulled, but not fully felted. I just put them in our regular 30 degree wash, so this is what I expected. After all, I've ruined enough jumpers to know that water doesn't have to be 80 degrees to wreck a jumper.
Aren't they cute? Lindiloo is holding a Christmas knitting event this weekend at Tardis House, 122 Island Wall, Whitstable, 11am to 3pm on Saturday and Sunday. I have a sneaky feeling I'll be buying some stone coloured aran to make gift booties.
The pattern is from
Essential Baby
by
Debbie Bliss
.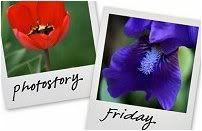 Hosted by Cecily and

MamaGeek