I took Peaches for breakfast at Tea and Times. It's always a happy time. This time it was even better and there was a buzz about the place. This cafe also sells newspapers and all the papers were running front page stories on an amazing thing.
A plane has two engines fail and it has to crash land. Somehow Captain Chelsey B Sullenberger keeps the plane afloat and everyone gets out alive and safe.
I just hope more than a few passengers were on a shopping trip to NY and only packed empty suitcases.
Though right now, I bet they don't care a stuff about their lost belongings.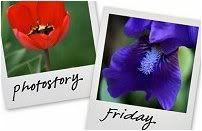 Hosted by Cecily and MamaGeek